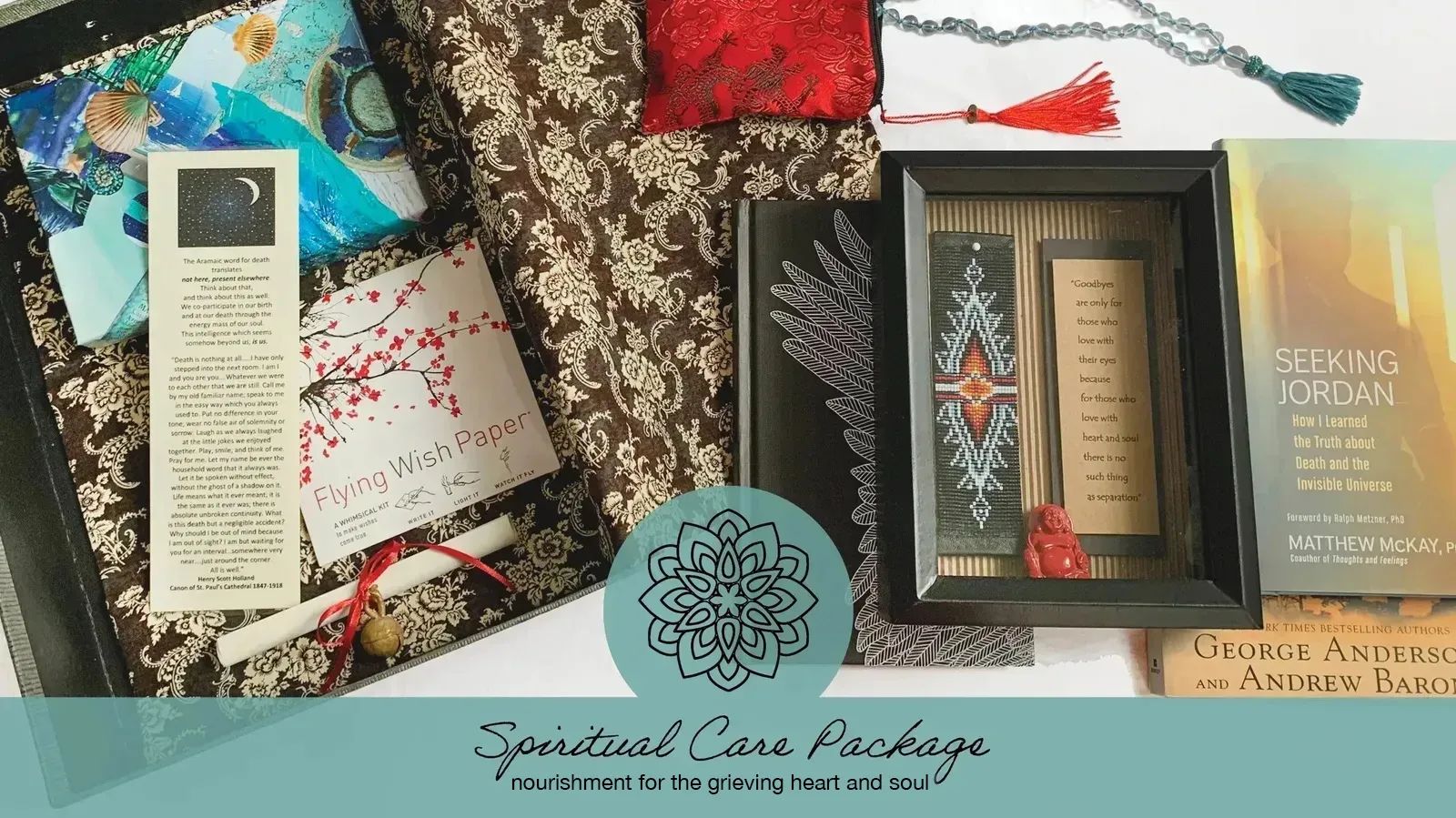 This Spiritual Care Package will help you through the grieving process.
The Spiritual Care Package offers tools to assist yourself or a loved one through the process of grieving. The healing energy of these carefully chosen items will help you move from "grief to grace".
This gift translates into a genuinely caring and thoughtful offering to oneself, a friend or a family member. These healing items are what soothed me over the weeks, months, and years following the passing of my husband, Peter.
New product
Zen Boxes
Each uniquely created Zen Box reminds the recipient to be guided by their heart. Every Zen Box is a little bit different.
You will receive something truly unique in your order. Zen Boxes are sold individually upon availability for $45.
What a pleasant surprise to receive your Spiritual Care Package! Such a terrific and thoughtful gift. How kind of you to thoughtfully consider me and my beliefs/interests to create such a nice comforting, personalized package. I look forward to spending some time with this box and its contents.

Thank you very much!

Tanya S.
I love the Spiritual Care Packages. I have sent them to several people who have lost loved ones - they are always so appreciative and touched to receive such a beautiful and thoughtful gift. Each item is selected or handmade by Angela with great care and love; together they provide exactly the kind of nourishment, comfort and support that is so helpful during the grieving process.

Karen P.
The Spiritual Care Package is the most appropriate and thoughtful gift to give anyone who is mourning the loss of a loved one.

It is beautifully packaged and is full of spiritual healing items that touch upon every learning-healing modality.

A much better investment than flowers or such. The recipient can use the items in any order as many times as they wish. It never gets old.

Melissa Riviello
Imagine Christmas arriving in your mailbox. And imagine the gifts inside this unexpected arrival speak directly to your soul.

Better than hot chocolate on a cold morning, the Spiritual Care Package warmed my heart and keeps on giving.

Suzanne Giesemann, Author of Messengers of Hope
I was delighted with the Spiritual Care Package which was created with love by Angela Craig.

I shared it with my friend whose husband had recently passed. My friend said that she found comfort in this lovely gift.

She said many people sent flowers or food, but the Spiritual Care Package by Angela nourished her soul.

Susanne Wilson, The Carefree Medium
The Spiritual Care Package is a most beautiful gift. I purchased 2 of them for different friends close to me, to support them as they were on the journey to letting go of family members. Their appreciation of the thoughtful and heartfelt contents cannot be overstated. The Package is a gift of love. It touched them deeply and assisted them in feeling the loss and living with it.

Nanci Kreidman, CEO, Domestic Violence Action Center
Thank you for your love and care infused into my Spiritual Care Package. It is beautiful.

Kay Naugle
The Spiritual Care Package will help you transcend grief while simultaneously healing your body, mind and spirit.

Angela's Spiritual Care Package embraces the receiver. Each of the ingredients embraces the receiver's pain, grief and suffering and brings them little by little to the "healing light".

Bob & Joan MacDonald
I just received the Spiritual Care Package. I am so excited for the first time since my husband died, to start using all of these treasures. It is the perfect gift for someone who has lost someone and doesn't know how to start the healing process, but goes even further than that, knowing that you can still have a relationship with your loved one. With joy in my heart.

Karen Israelsen
Listen to Angela Craig on Messages of Hope, with Suzanne Giesemann
About Angela Craig
I am a retired innkeeper by trade and a seeker of magical, metaphysical, and spiritual things. I am a philosopher at heart. I have always been drawn to and interested in what lies beyond our physical world. At a time when I needed comfort and support the most, I found relief in these healing items.